My thoughts on this game thus far
Goloith
Common Alpha Backer ES1, Customer
Posts: 34
Hello Rockfish,
So after playing Everspace for about six hours, here's my feedback:
The Game World:
The first thing that comes to mind is WOW! The scenery is absolute beautiful! The vibrant colors really make the game world quite inviting. Additionally, the method you use to incorporate resources truly add to the games beauty. This is refreshing approach from the stale norm of placing resources into the game world just to do it for gameplay. Every person I have shown screenshots to are blown away because of scenery.
3440x1440 (4.9m pixels)
http://i.imgur.com/39Xyqi8.png
6880x2880 (19.8m pixels)
http://i.imgur.com/SuCHhYC.jpg
I would however suggest alternating colors as blue seems to be used a bit too much. Furthermore, a little more breakup in colors would even make this game even prettier.
---
The Gameplay:
Gameplay in Everspace is an absolute blast from the past (Freelancer). The fast pacing is really enjoyable as it forces you to pull some wicked maneuvers to evade fire. The number of things to do in this game are numerous, even in Alpha. Want to raid a freighter? Check. Want to kill some Outlaws or Aliens? Check. Want to get your rear end kicked by a capital ship? Check. Additionally, I'm really enjoying the resource gathering as well. Just watching the asteroids break apart reminds me of Space Engineers, which I thoroughly enjoyed. Also the crafting system is cool when you actually get enough materials.
A few suggestions that I would highly impliement would be refining the AI to be less accurate. Like I mentioned, you have to pull some ridiculous maneuvers to evade, but even then that can't save you from basic enemies. Like others have suggested, you pretty much have to tank most battles, not evade. Allowing AI to miss also adds a bit of realism that is needed, even for a rogue style game. Also we need a way to convert resources to other resources. For example, if I need power cells, I should be able to convert gas to create that or vice-versa to dismantle. Maybe this would be a blueprint drop? Also when it comes to weapons, I would actually make the Gatling gun use bullets that do not require power. I think you should have to craft more ammo using scraps. Right now we are quite power starved. Another thing I noticed was the lack of strafing power, but I will cover this a possible upgrade.
---
Controls:
Personally I found the controls to be pretty good like Freelancer, but that's because my mouse offers fully customizable DPI settings from 1 to 6400. It also let me get around the awkward spot of strafe up/down by mapping Ctrl or Spacebar to buttons on the mouse. Obviously, we know fully mappable controls will be in this game down the road so we'll be good there. However, this game does need quite a few sliders through. We need the following:
Master Sensitivity

Aim Layer Sensitivity

Aim Layer Deadzone (this will be needed for HOTAS/Gamepad)

Flight Layer Sensitivity

Flight Layer Deadzone (this is incredibly important for everyone)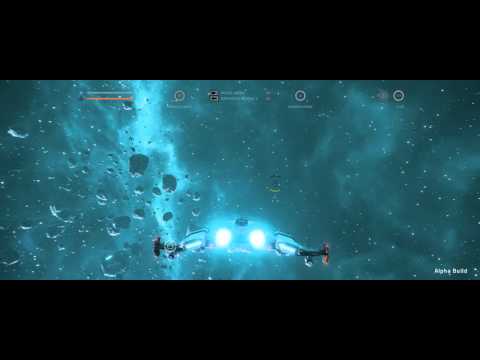 ---
Progression:
When I heard about the progression in this game I was not thrilled. As one of the top Star Citizen pilots you have this incentive to win, win, win, but that's not how this game rolls. I honestly thought this was just going to make the game easy mode, but if you die repeatedly there is a point where upgrades simply cost too much so you need to learn to get progressively better with each run so to speak. That's a great thing for balance, not that one cheeses their way through farming low credit runs. This game however harkens back to this idea of "If you don't succeed the first time, try and try again till you do". That's not necessarily a bad thing. This game's is a causal game meant to be fun, not competitive and serious so it's also refreshing. About the progression system itself there is quite a few options for upgrades, but due to the fact that enemies are difficult to evade credits aren't necessarily rolling in. Hopefully the AI's aim is toned down so we can kill more enemies to get more credits.
My suggestion would be to add a little bit more of a bonus to the upgrades. I think that would help.
---
Hardware Utilization:
Right now this game is running off UE4 so it really does a decent job of utilizing current hardware. However, this game is still demanding enough to bring my BIOS flashed Titan X Hybrid below 60 FPS when using a higher resolution than 3768x1577 resolution (5.9m pixels). This means that we won't see 60 FPS at 4K until Pascal arrives, and even that's not guaranteed. The game however, does a decent job of utilizing multiple CPU threads and keeps that GPU utilized.
Here's a detailed benchmark I ran with my computer:
https://docs.google.com/spreadsheets/d/1QLOHYI0bM7skwT_XPSj-VMeMok0afJA_JIlMPbsYzpw/edit?usp=sharing
Now I would strongly suggest that you implement a true fullscreen mode though. Right now the game defaults to 0 (zero) which is supposed to be true fullscreen, but is truly acting like 1 (borderless windowed). 3 obviously should be regular window mode.
---
Anyways I've really enjoyed my time testing this game thus far and hope this feedback brings to light some needed changes to make the game even better.