Passive Devices, Active Devices...what about Channeled Devices?
Giraffasaur
Administrator, Moderator, Space Cat
Posts: 1,110
Hello Everspace Community and Rockfish Games,
Quick disclaimer: This suggestion is a BOLD one in the face of some already impressive mechanics established in the game; this idea would modify several minor functions and would require a bit of time to implement already established assets. That said, I strongly believe this modification could be a profound improvement to the game and would be worth the development time to implement, if time allowed.
As avid gamers, I'm sure many of you are keen of what
channeling
is. For those not as familiar with the mechanic, channeling is a common mechanic used to take a resource from a player (currency, energy, health, etc) OVER TIME in order to activate a power, item or ability FOR THAT TIME.
In fact, Everspace already uses channeling.
Beam II
is channeled, requiring the player to use a continual amount of energy to keep it firing. If deactivated, the player must take a short amount of time to start it back up, then require continual energy to keep it firing. If there isn't enough energy, the channeled beam stops firing.
Regarding Everspace's Devices, they fall into two categories:
Passive
(which operate independently at all times at the small cost of energy reserves) or
Active
(which take away a chunk of available energy when used and last for a short duration). The
Energized Boost
is a fantastic example of an Active Ability, because the effect it provides is instantaneous. However, this is not the case for several other Active Devices.
I'm not saying the Devices don't work well; actually, most make sense in how they function. For instance, Cloaking takes a chunk of energy to activate and lasts for some time granting the player options. Whether you regenerate your energy while you cannot be seen, flee to a more strategic position or warp out unscathed, multiple outlets are possible because the player knows exactly how much energy they need to activate it, as well as exactly how much time they have while they are cloaked.
But let's look at it from a different angle. One where Cloaking was channeled.
What if, when you used the Cloak, it only required 10 energy?
However, while being channeled, all energy regeneration would be nullified to stabilize the Cloak. If your ship regenerated 6 energy/second, the Cloak would cost 6 energy/second (which is important...more on that in a moment). You could still use weapons, other devices and boost while cloaked, but your energy would deplete as normal and would not come back...until you decloak.
This changes EVERYTHING, doesn't it?! You can't idle and regenerate energy anymore, but now you have a greatly extended cloak if you float away from combat without using a booster. However, you can cloak more often due to it's low cost. You could pop your cloak for a moment to bypass some enemies, then decloak to pick up some loot, then immediately go back into cloak to evade more enemies around the bend. Suddenly, you're becoming far more nimble than you could be before, if you play your cards right. It could also leave you high and dry for energy though, so the device itself becomes more tactical.
But Cloaking works well as it is, so this might not be the best implementation of channeling. Maybe other Devices could benefit from channeling far more...like the
Time Extender
!
As it stands, the Time Extender is very powerful. Currently in version 0.4, for a small energy cost, the player gains a HUGE speed boost for all forms of mobility for a pretty decent amount of time, with a small cooldown. The player can regenerate energy, fire, boost, etc like normal...but with that small cooldown, it's remarkably easy to chain one Time Extender use into itself with a minor wait in-between, creating a near infinite amount of, well, time!
It's a bit long of a video, but there are multiple examples in this run where the Time Extender is used after itself over and over.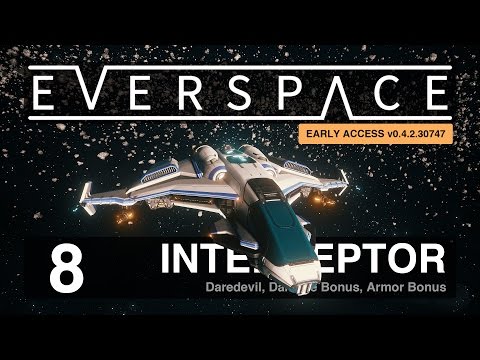 By making the Time Extender a channeled Device that nullifies energy regeneration, the player must now balance how they will utilize the double-speed. Will they spend their energy on boosting to evade incoming fire? Or will they use it to fire a barrage of weaponry on their target?
This change does two major things: First, it creates tactical thought in the device's use. Second, it balances the device according to how the player controls it (managing energy), instead of how the device controls the player (on a timer). This change makes the device less overpowered simply by it being
activated
and puts it's effectiveness on how it is
used
.
If multiple Channeled Devices are activated at the same time, the player would actually LOSE energy. For instance, if the player regenerated 6 energy/second, and one Channeled Device drained 6 energy/second, then two Channeled Devices would make the player lose 6 energy/second.
Overall, I think Channeled Devices could find a strong place in Everspace's core gameplay, especially regarding the Time Extender. While I could argue some (maybe most) Devices should not be touched in their functionality, I think others could be opened up to a world of possibilities by exploring other ways of how they are activated.
So, what do you think? Is this idea far too complex for Everspace and we shouldn't touch what isn't broken? Do you think something needs to change with Devices as well and think this is a great solution? Or do you have additional thoughts on how Devices are used in the game? I'd love to hear from you below.
Thanks for your time,
Giraffasaur